Selected Movies and Media by CAMERADO
Production Reel for Camerado includes original and commissioned projects - see details at IMDB. This is a general production reel and includes examples of shooting, editing, sound design, drone/UAV, time lapse, and the direction of talent. (See lower thirds for specific credits)

Note: This video reel does not include long form audio (i.e., audiobook) projects - see audio section below

'Bringing Hope to the Children of Cambodia with Cloud' (Microsoft Asia)
Philanthropic Video for Microsoft Philanthropies Asia, Directed and Location Managed by Camerado Media principal producer Jason Rosette
Child abuse and trafficking remains a serious social issue in Cambodia.
Hoping to bring an end to this is the Child Protection Unit (CPU), a joint operation between the Cambodian Children's Fund and Cambodia National Police, which use a cloud system based upon the Microsoft Azure framework.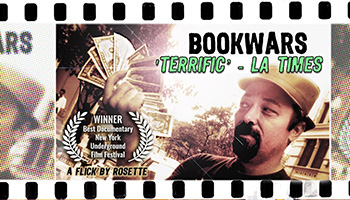 Feature documentary with TV versions (79:00 / 56:30) - Watch Now on Amazon Prime Video!

SYNOPSIS: The gritty world of New York City street booksellers is exposed in a remarkable story that chronicles their lives and loves and their unique perspectives on life. See the Mayor, the University and the NYPD try to shut them down!
'Superb...mesmerizing' - NY Film Critics Circle | 'Utterly compelling' - Jacksonville Film Journal | New York Underground Film Festival Winner * IFP Gotham Award Nominee
Written and Directed by Jason Rosette
See the BookWars website for more reviews, screening history and information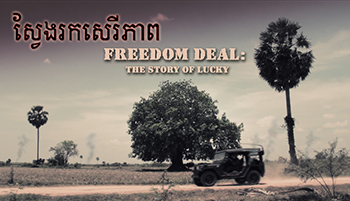 Episodic Scripted Historical Drama
SYNOPSIS: During the Vietnam War, a combined US & Army of South Vietnam military operation enters Cambodia to locate and destroy North Vietnamese and Viet Cong sanctuaries. A Cambodian youth named Samnang ('Lucky') and an ornery but likable wedding musician make their way through the conflict - encountering landmines,  surreal ghosts, and marauding helicopters as they go.
Produced on location in Cambodia, SE Asia.
See the Freedom Deal website for more information, screening history, and EPK.
Feature Scripted Drama - Watch now on Amazon Prime Video!

SYNOPSIS: In a desert town somewhere in the Southwestern United States, a young woman named Susan seeks a maverick animal cloning expert who claims he can bring her recently deceased daughter back to life.
'Great Road Pic' - Angelika Entertainment | 'A unique and interesting take on the fluidity of technology versus the recurring commonality of the human condition' - Moving Image Journal
See the Lost in New Mexico website for more reviews, screening history, and press materials
Aerial (Drone/UAV) Production Reel
(Aerial) drone video reel from Camerado Media
All clips piloted, shot and produced by Jason Rosette using DJI platforms
Screen and Scriptwriting Portfolio
Screenwriter & Script Doctor Portfolio
Includes features, long form factual/documentary, episodic, and short form projects developed, researched, and written by writer-director Jason Rosette.
Many of these projects were produced and completed; take a moment to compare the screenplay version with the final distributed film or media content!
Direct link to Jason Rosette's screenwriter & script doctor portfolio: https://issuu.com/camerado/docs/jrosette_writer_portfolio_5-2011
Short documentaries, short fiction, 360 videos, mockumentaries, and more by Camerado
(These movies and more viewable on the Camerado Youtube channel)
Includes short documentaries and unscripted content, audiobook trailers, 360 degree videos, Google cardboard videos. Some projects produced commercially, while others are independent.
CAMBOFEST: Cambodia's First International Film Festival (est. 2007 / 2550)
The first internationally recognized film festival to take place in Cambodia, and the first recurring motion picture festival event since the end of the Khmer Rouge regime.
A non-state, non-aligned, grass roots effort established with a pioneering pro-copyright mandate which identified and fought piracy in the Cambodian motion picture sector
Paved the way for numerous regional festivals which followed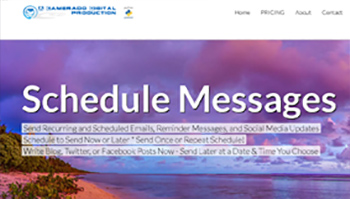 SCHEDULE MESSAGE
Web based communications application designed and produced by Camerado Digital
A Content scheduling utility; send repeat, delayed, and recurring email reminders and social media updates.
Send once or recurring; edit and export messages for offline editing and then re-import new schedule
Includes intuitive customizable scheduling calendar